PC-SCOPE 12MHz 1 CHANNEL WITH ADAPTER (110V)
PC-SCOPE 12MHz 1 CHANNEL WITH ADAPTER (110V)
Skill Level :
Assembled and Tested
---
Buy 10, Get 5% Off!
Buy 100, Get 10% Off!
---
The PCS100 is a digital storage oscilloscope, using a computer and its monitor to display waveforms. All standard oscilloscope functions are available in the Windows program supplied. Its operation is just like a normal oscilloscope.
Connection is through the computer's parallel port
, the scope is completely optically isolated from the computer port. Features: comes with adapter: yes (110V) general: 1 channel input impedance: 1Mohm / 30pF frequency response: 0Hz to 12MHz (± 3dB) step markers for voltage, time and frequency vertical resolution: 8 bit auto setup function optically isolated from computer record and display of screens & data supply voltage: 9 - 10V DC / 500mA dimensions: 9" x 6.5" x 1.8" weight: 14oz minimum system requirements: IBM compatible PC Windows 98, ME, (Win2000 or NT possible), XP SVGA display card (min. 800x600) mouse free printer port LPT1, LPT2 or LPT3 CD Rom player options: soft carry case: GIB -: - comes with: 1 insulated measurement probe x1 / x10 (PROBE60S)
pcs500-100.pdf
oscilloscopes_cross_reference_uk.pdf
usermanual_pcs100_pcs500_k8031_uk.pdf
usermanual_pc-lab2000se_uk.pdf
Specifications: oscilloscope: timebase: 0.1µs to 100ms per division trigger source: CH1 or free run trigger level: adjustable per ½ division input sensitivity: 10mV to 3V per division record length: 4096 samples sampling frequency: 800Hz to 32MHz (Real time) true RMS readout (only AC component) transient recorder: timescale: 20ms/div to 2000s/div max record time: 9.4hour/screen automatic storage of data automatic recording for more than 1 year markers for time and amplitude zoom function spectrum analyzer: frequency range: 0 .. 400Hz to 16MHz linear or logarithmic timescale zoom function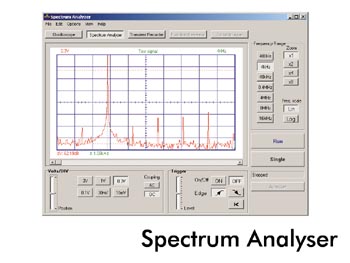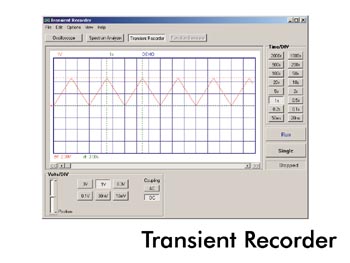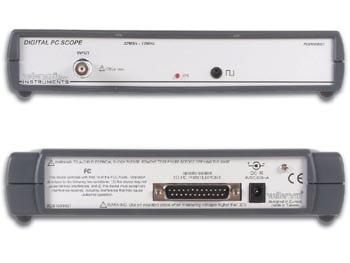 ---